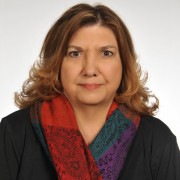 Karen Arbogast, MSSA, LISW-S
Licensed Independent Social Worker-Supervisor
Licensure
Licensed Independent Social Worker – Supervisor (LISW-S)
Education
Master of Science Degree in Social Administration – Major in Adult Mental Health
Case Western Reserve University, Cleveland, Ohio – 2003
Bachelor's Degree in Psychology and Social Work (Dual Degrees)
Youngstown State University – 1974
Professional History
Karen Arbogast, MSSA, LISW-S, has been actively employed in various helping professions since earning a Bachelor's Degree in 1974. At that time, positions were focused in the areas of child and family services, adult education, career counseling, employment and training.
After obtaining a Master's Degree in Adult Mental Health, Karen provided therapeutic services at the following facilities: Belmont Pines Hospital (Adolescent Residential Treatment Center), Youngstown, OH, and the Counseling Center of Columbiana County, Lisbon, OH. 
The following six years were focused on providing macro-level administrative services for families and children, and bullying prevention training through employment at the Columbiana County Mental Health and Recovery Services Board/Family and Children First Council in Lisbon, OH. 
After retiring from state employment, Karen has worked with clients seeking mental health therapy services, and is currently employed as a Therapist at the PsyCare Clinic located in East Liverpool, OH.
Specialties
Adult population
Anxiety
Depression
Abuse, trauma, grief
Self-esteem
Communication skills
Stress management
Women's issues
Coping skills, mindfulness, relaxation, spirituality as tools for healing
Professional Objectives
"As a therapist, my goal is to meet the client where he or she is currently and to facilitate the development of new skills and resilience to overcome self-identified obstacles to personal growth and happiness."
Theoretical Orientation
Relying primarily on Cognitive Behavioral Therapy, other strength-based treatment modalities are utilized as indicated, including:  Brief Therapy, Grief Therapy, Trauma Therapy, Client-Centered Problem-solving, accessing community resources, and Relaxation practices.
Certificates/Special Training
Cognitive Behavioral Therapy
Brief Therapy
Mindfulness and Acceptance
Diagnosis and treatment of Anxiety disorders, Depression and suicide prevention
Professional Affiliations/Memberships
State of Ohio Counselor, Social Worker and Marriage and Family Therapist Board